My Experience at Slottica: How It Was
Let's cut straight to the chase. When I started to play, I was on a lucky streak. Let me tell this in order:
First, I deposited 30 euros ($51) via ecoPayz. Later, I will explain why I chose this payment option. 
Right after the money appeared on my account, I was offered the casino's welcome bonus (Slottica gives new players 200% on the first deposit and 30 spins that can be spent on Gonzo's Quest). Considering the high wagering requirements (45x), I decided that this bonus will not bring me any profit. So, I did not take it. 
At this point, I started to look for a game. Since it was Christmas time, I decided to play Deck the Halls by Microgaming.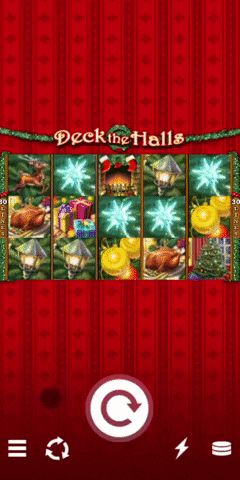 In the beginning, I lost about $10, but then it went better. I stopped playing when my balance was 371 dollars. I believe it is not a bad result though I had even better wins at other online casinos.  
Don't get fooled by the nice figures since I did find certain pitfalls that wait for naive players on this website. I'll tell you about them a bit later. 
Main 6 Criteria I Considered when Testing Slottica Casino
When I need to check an online casino, I always follow the same algorithm. My list of criteria is not rocket science. But all the points there are vital when it comes to choosing a reliable casino with lucrative offers.
Licences and reputation
Even if you found a casino with an excellent variety of games or a super-tempting bonus offer, you still need to check whether it is licenced before registering there. Only when you are playing on a website that holds a licence you are safe. Although there are no New Zealand organizations that would test online casinos, you still can find sites approved by international establishments such as Malta Gambling Authority or United Kingdom Gambling Commission. Speaking of Slottica, the casino was licensed by Curaçao Gaming Board. This is another independent organization which is not as famous as the previous ones but still quite reputable. 
Variety of payment methods 
Here, I'm going to tell you about a little trick which many casinos do to their players. The thing is, most gamblers check only the list of payment options for depositing. They are sure that the same methods can be used for withdrawals. As you might already guess, it is not true. As a rule, casinos provide their users with a much smaller variety of cashout options. This is exactly the case of Slottica. The number of payment methods which you can use to top up your account is twice higher than the list of withdrawal options. See yourself:
Since it is much more convenient to use the same service for all transactions, I chose ecoPayz. This method is present in both lists. 
Wagering requirements for the welcome bonus
Some players did not even think of registering in an online casino until they saw a tempting bonus offer for new users. "I'll not risk anything if I play with such an awesome bonus", "I will get a huge benefit from the welcome offer" - these and many similar thoughts get into the peoples' minds and make them press the "Sign up" button. I know that some online casinos make very attractive offers that make you think you will lose a golden opportunity if you don't take it. In fact, it is just a marketing trick. 
The pitfall I'm talking about is called wagering requirements. This term means the number of bets you need to make to get the bonus. If this figure is higher than 40x, it is not worth claiming. Trust my seven-year casino dealer experience, you will get fed up with online games before you are finally allowed to withdraw your winnings. In the case of Slottica, wagering requirements are 45x, which is too much as for me. 
Not only new players get nice offers from the casino. Slottica also has a lot of bonuses for regular users. For instance, you can get 95% of the deposited amount. Nevertheless, wagering requirements in practically all cases are 45x.
In addition, the casino offers a wide variety of themed tournaments. As I said, I was playing at Slottica at Christmas time, so there were a lot of lotteries with an image of Santa and reindeer.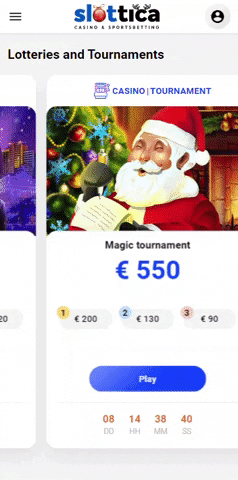 Of course, it is up to you whether to accept Slottica's bonus offer or not. Here, I'm just sharing my own opinion. 
Number of games from famous providers
Some online games have really nice features and quite exciting music, but the low-quality graphics spoil the experience significantly. This is not the case of Slottica's games. On the website of this casino, I found products developed by Microgaming, NetEnt, Evolution Gaming, and many other providers with a perfect reputation in New Zealand. 
Slottica offers more than 1000 thousand games including live pokies, cyber sport, live sport, etc. You are not going to get bored there. Most pokies in this casino have demos. So you can play them for free and find out whether you like a certain game or not before betting real money for it. 
Convenience of the mobile version
I play casino games with my smartphone practically every day. The high usability of a mobile version of the casino is vital for me. I've spent hours on different websites with awful design and frequent freezes. So you can trust me I know what a good mobile casino looks like. The first thing I noticed when registered at Slottica, was the super-intuitive interface. Whatever page I needed to open, it was easy to find the right button.
The next thing I did was comparing PC and mobile versions. Let me explain. Some casinos do not care much about those who are playing their games with a phone or tablet. They provide mobile gamblers with fewer features and a poorer variety of games. Speaking of Slottica, this website works well whatever device you are using. Its buttons are responsive, and the design is adapted to screens with a smaller size. 
Availability and helpfulness of the support
When someone asks me how to find out whether a casino is good or bad, one of the first things I always suggest checking its support. Although this advice is the last on my criteria list, it is definitely not the least important. Even if a casino has a great reputation and is 100% reliable, you still can bump with some problems there. Slottica has a quite short F.A.Q. section where not all possible questions and answers can be found. Still, you might want to ask something. The casino offers to contact the operator right below this section.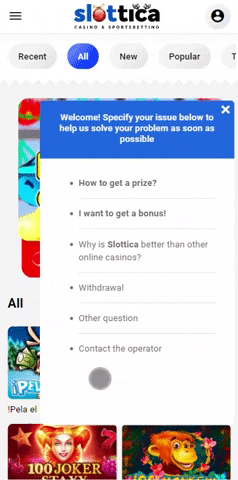 I prefer playing on gaming sites with 24/7 support available. Who knows when some problem may arise? A live chat working around the clock is a perfect option. To test the support at Slottica, I pretended to have an issue and wrote to them at midnight. Despite the late time, the response in the online chat was quick and helpful. The operator answered my question in a minute, which means the casino does care about its users. 
Slottica's support agents can also be reached via phone or email. Such a large variety of ways to contact the casino's operator makes me feel more confident when betting high amounts of money. 
Additional information
One more interesting thing about Slottica is that the casino provides users with very clear instruction on playing different games. It has a page fully dedicated to the rules. There, you can learn basic info about pokies such as types of bets, the procedure for bet acceptance, etc. If you are a casino newbie, I would highly recommend you to take a look at this page of Slottica casino. 
I noticed that this casino cooperates with Gambling Therapy. This is a famous organization which helps those who got addicted to playing online games. So if you feel that it is getting hard for you to skip a gaming session and you need someone's advice, you can go from the Slottica casino straight to the Gambling Therapy website. 
Conclusion
Despite the fact that Slottica was established as recently as in 2018, its game collection includes a lot of decent titles. Since I saw a lot of positive feedback about the casino, I can say that over a few years it earned a pretty good reputation among online gamblers. I already mentioned at the beginning that negative reviews related to Slottica can be found as well, but almost all of them are commented by the casinos support offering to solve users' problems. 
Hope I didn't make you think that Slottica is perfect because this casino has some cons too. The website attracts players with nice bonuses, but the wagering requirements are quite disappointing. Plus, I would like it to be certified by such a famous authority like eCOGRA. This would add an extra layer of credibility. In any case, I think the benefits of Slottica are way more significant than its drawbacks. Plus, now I am sure that it is possible to make good money on this website.